by Victor Giananella
Edit
Adapted from the novel by Mary Shelley
Summary: Set in nineteenth-century Switzerland, this classic tale of horror and suspense details the ill-fated experiments of young Dr. Frankenstein as he attempts to fathom the secrets of life and death. Purchasing cadavers from two unsavory grave robbers, he gives life to a creature both hideous and touching—and so physically powerful and mentally twisted that he soon brings death or destruction to all who stand in his way. Adhering more closely to the original novel than did the famous motion picture versions, the play blends moments of brooding terror and sudden shock with questions of morality and the dangers of unrestrained scientific inquiry.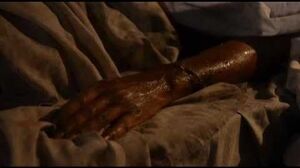 Production Staff
Edit
Director/Designer: Joel Daavid
Associate Director: Barbie Nettles
Stage Manager: Jennifer Siddoway, Stephanie Brown
Set Designer: Joel Daavid
Assistant Set Designer: Dale Austin
Lighting Designer: Joel Daavid
Assistant Lighting Designer: Laura Mock, Todd Teagarden
Original Trailer Score: Michael Teoli
Sound Design/Engineer: Terence Jordan
Properties: Marcy Palmer
Costume Designer: Crystal Nelson
Prosthetics: Chris Stever & Jane DeRosa
Charge Scenic Painter: Marine Walton
Scenic Painter: Jennifer Siddoway
Assistant Scenic Painting: Marcy Palmer
Construction Assistant: Fred Palmer, Jacob Nabors, Tom Harrison, Tim Nettles, Todd Teagarden
Lighting Op: Todd Teagarden
Sound Op: Barbie Nettles, Terence Jordan
Dog Trainer: Martha Winters
Fight Choreographer: Derek Nieves
Ensemble Choreographer: Marcy Palmer
Stage Crew: Tim Nettles, Ben Gilleland
Production Support: Jenn Specht
Trailer Editors: Kevin H. Doar, Matt Bucior
Video Crew: Audrey Sweet, Jenny Dease, Shirley Hanko, Fred Palmer, Kevin H. Doar, Matt Bucior, Crystal Nelson, Summer Hill Seven, Duncan Hoehn
Makeup/Stylist/Prosthetics: Audrey Sweet, Jenny Dease, Shirley Hanko
Makeup Artist for The Creature: Jennifer Siddoway
Production Manager: Paige Brand
Cast List
Edit
Production Calendar
Edit
Audition Dates: August 12 & 13, 2012
Performance Dates: October 11-28, 2012
Ticket Sales
Edit
Tickets Sold: 1,837

Revenue:
Nominations:

Awards:
Community content is available under
CC-BY-SA
unless otherwise noted.